Professional Electrical Repairs for Your San Mateo Home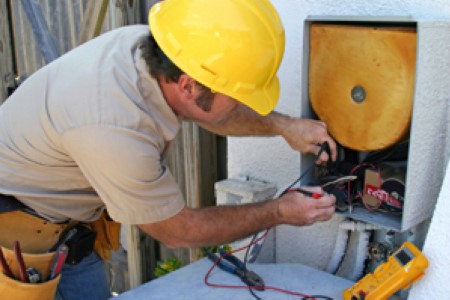 Our electricians can handle many different types of electrical repairs for your home. We will come to your San Mateo home and assess any problem you may be having. While performing San Mateo electrical repair services to fix your electrical issue, we will use only the most durable products available and will guarantee all our work.
As California professional electrical contractors, we have over 40 years of knowledge and experience in electrical design, repair, installation, and troubleshooting. You can always rely on our expert team of professionals at Owens Electric & Solar to provide exactly the type of electrical service you deserve.
Our San Mateo Electrical Repair Services
Electrical Repairs
Outlets & Switches
Generators
Panel Upgrades
Surge Protection
Smoke Detectors
Troubleshooting
Ceiling Fans
Security Lighting
Landscape Lighting
Short Circuits
Industrial Services
We Provide Electrical Repairs to the Following Areas
San Mateo County - Atherton, CA | Belmont, CA | Brisbane, CA | Burlingame, CA | Colma, CA | Daly City, CA | East Palo Alto, CA | Foster City, CA | Half Moon Bay, CA | Hillsborough, CA | Menlo Park, CA | Millbrae, CA | Pacifica, CA | Portola Valley, CA | Redwood City, CA | San Bruno, CA | San Carlos, CA | San Mateo, CA | South San Francisco, CA | Woodside, CA
Why San Mateo Should Hire Us For Electrical Repairs
We recognize the need for minimal down time when it comes to your home and business. From ceiling fan repairs and electrical wiring replacement to commercial electrical services, we have the necessary experience and expert knowledge to handle any size of electrical repair or installation project.
Recent Articles About Electrical Services
Home 3 Signs You Need A Panel Upgrade For Your San Mateo Home
Electricity has a fairly long journey before it finds its way into your home, and when it does, your electrical panel serves as the gateway into your San Mateo home. Your electrical panel is responsible for taking the power from the line outside your home and distributing it throughout your house to where it is needed, but if your electrical panel is a bit older, it might not be able to distribute the kind of power your home needs, or might not be able to do so safely [...]
Why Your Home Needs A San Mateo Home Generators
With harsh winters come power outages, and with loss of power, most homes today come to a stand still. None of the appliances work, which is especially bad for food kept in freezers and refrigerators, the heat shuts off, and so does the water. This is bad enough in any home, but is worse if somebody in the home has health problems, and for the elderly or babies [...]