Energy Efficient Solar Electric Installations for Your San Mateo Home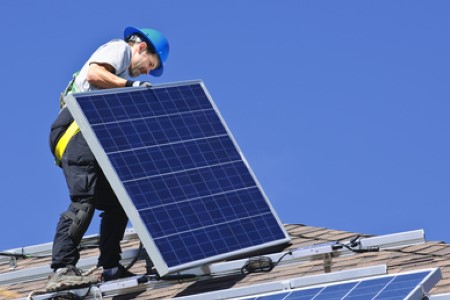 Owens Electric & Solar provides the entire San Mateo area with solar electric installations that have virtually no negative impact on the environment. Now you have the 'Power' to save. By investing in a Solar Electric System, you can generate your own clean electricity from sunlight, with no air pollution or noise, and most important, with a great cost-benefit ratio of your investment. You can help your community and minimize the impact of the energy crisis by reducing your electric usage on the utility grid, and you can even feed the excess power you produce back into the utility during the day when the demand is highest. The utility will credit you for this power at the same rate they sell it to you for. Solar Electric panels have no moving parts to wear out, and they come with an extraordinary 25 year warranty, and a 40-year design life.
The energy that your San Mateo solar panel system produces can greatly reduce, if not eliminate, your dependence on the utility company. Owens manufacturing partner, Sealed Air Corporation, produces not only the best looking solar collectors but also the best engineered. When you install solar energy systems in your San Mateo home, you will qualify for tax credits including 30% of the cost, up to $500 per .5 kW of power capacity. For more information on the tax credit benefits of solar enery systems please visit http://www.energystar.gov/
Our San Mateo Solar Electric Services
Photovoltaic Systems
Solar Photovoltaic Systems
Home Photovoltaic Systems
Solar Panels
Photovoltaic System
Photovoltaic Cells
Solar PV
Photovoltaic Solar Systems
Solar Shingles
Solar Panel
We Provide Solar Electric Solutions to the Following Areas
San Mateo County - Atherton, CA | Belmont, CA | Brisbane, CA | Burlingame, CA | Colma, CA | Daly City, CA | East Palo Alto, CA | Foster City, CA | Half Moon Bay, CA | Hillsborough, CA | Menlo Park, CA | Millbrae, CA | Pacifica, CA | Portola Valley, CA | Redwood City, CA | San Bruno, CA | San Carlos, CA | San Mateo, CA | South San Francisco, CA | Woodside, CA
Why San Mateo Should Hire Us For Solar Electric Solutions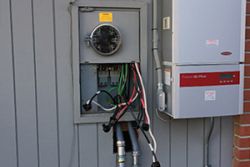 We take a personal approach in monitoring and fine tuning each phase of every San Mateo solar panel project. It is our main priority that every customer receives a quality product which fits their needs and is completely satisfied with their service from design to the finished product.
Whether you are looking to purchase a brand new electrical system, a panel upgrade, your circuit breaker needs to be replaced, our knowledgeable technicians are here to help you.
Recent Articles About Electrical Services
How You Save Money From San Mateo Solar Shingles
When it comes to San Mateo solar energy, many large companies and commercial buildings are utilizing solar panels to help cut down costs and be environmentally friendly. But it isn't as easy for homeowners to take advantage of its benefits [...]
Why Your Home Needs A San Mateo Home Generators
With harsh winters come power outages, and with loss of power, most homes today come to a stand still. None of the appliances work, which is especially bad for food kept in freezers and refrigerators, the heat shuts off, and so does the water. This is bad enough in any home, but is worse if somebody in the home has health problems, and for the elderly or babies [...]